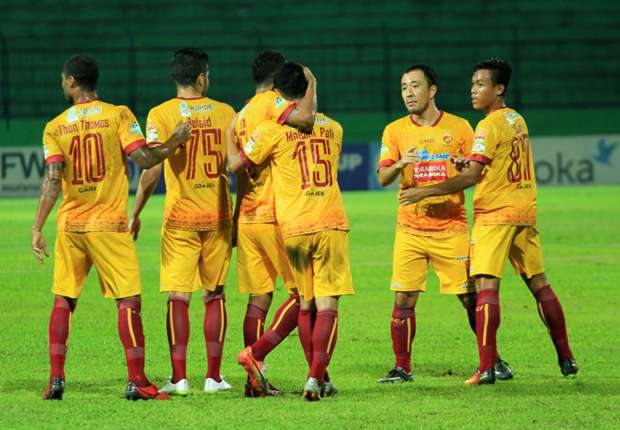 PREVIEW League 1: Sriwijaya FC – Bali United
Duel between Sriwijaya FC and Bali United in the match of the 15th week of League 1 2017, Wednesday (19/8) night WIB, at Gelora Stadium Sriwijaya Jakabaring will be a hot reunion event for both teams.
Bobby Satria, Indra Permana, and Hendra Sandi first strengthened Bali United before deciding to move to Sriwijaya FC. Instead, Ngurah Nanak, Syakir Sulaiman, and coach Widodo Cahyono Putro underwent a career in Palembang, and continued with Seridian Tridatu. Similarly, Abdulrahman who had stopped first in the League of Timor Leste.
This condition certainly makes both teams know each other's weaknesses and shortcomings. Caretaker coach Sriwijaya FC Hartono Ruslan asserted, he was ready to fight against Widodo.
"If Widodo says he already knows all the SFC players, SFC's guys, it's not a problem, because all SFC players are currently their foster children. What matters now, the children work in the field. They have to show they can, because 90 minutes is a rivalry, "said Hartono.
"Because we are chasing victory, obviously we still have to play attack. Since the early minutes we had to work hard with playing presses. We hope the opposing team can not develop the game. Players are ready to play all, even the injured have also been training. But for Bio [Pualin], it probably has not recovered properly. "
The position of Sriwijaya FC in rank 15 is still far from Bali United who occupies the sixth position. Regarding this far difference, Widodo ignored. For him, Sriwijaya FC remains one of the dangerous teams.
"I do not see the class. Actually the SFC is a good team, only the last few games are out of luck. They're one team that's hard to beat. But back again, I just corrected to our own team. If you want to win, must fight, "said Widodo.
Former assistant coach Indonesia admitted not easy chasing victory at home to Sriwijaya FC. Moreover his team came to Palembang with a slight limp condition because there are seven players can not be taken.
"It's a little constrained, but still I'm not fixated. In Liga Indonesia there is no super team and also weak. All players must be ready. Who gets it down later, no problem. I am familiar with each player, the characteristics of this field, supporters, and the weather here, "beber Widodo.
"So, the match later point of victory is in the fighting spirit of the player. If you want to win, fighting spirit must also be high. I hope Bali United can win the game, keep playing by upholding the fair play. "(Gk-70)
Here's the forecasts of both players' players:
Sriwijaya FC: Teja Paku Alam; Marchko Merauje, Bobby Satria, Yanto Basna, Zalnando, Yu Hyun Koo, Ichsan Kurniawan, M Nur Iskandar, Tijani Belaid, Hilton Moreira, Alberto Goncalves.
Bali United: Wawan Hendrawan; Dias Anga, Agus Nova, Ahn Byung Keon, Hasim Kipuw, Fadil Sausu, Nick Van Der Valden, Taufiq, Marcos Flores, I Nyoman Sukarja, Sylvano Comvalius.